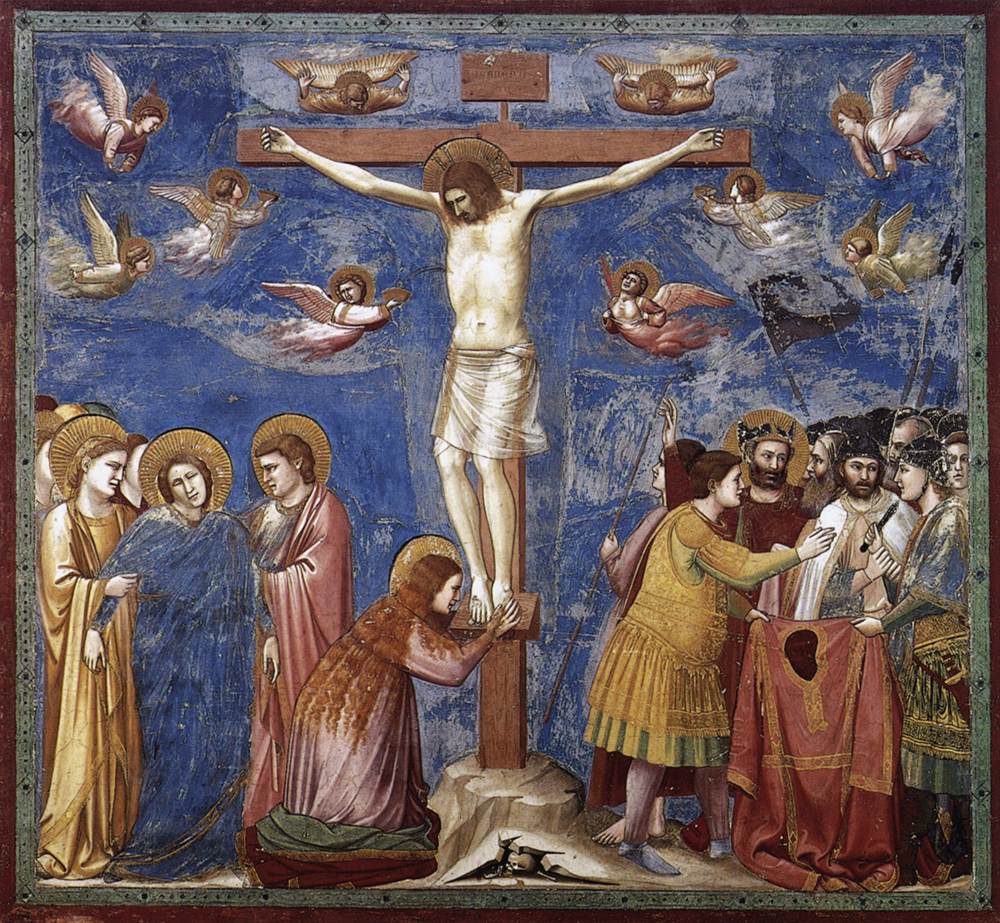 Stabat Mater
At the cross her station keeping,
Stood the mournful Mother weeping.
Close to Jesus to the last.
Through her heart, His sorrow sharing,
All His bitter anguish bearing,
Now at length the sword has passed.
Oh, how sad and sore distressed
Was that Mother highly blessed
Of the sole-begotten One!
Christ above in torment hangs,
She beneath beholds the pangs
Of her dying, glorious Son
Is there one who would not weep
Whelmed in miseries so deep
Christ's dear Mother to behold?
Can the human heart refrain
From partaking in her pain,
In that Mother's pain untold?
Bruised, derided, cursed, defiled,
She beheld her tender child.
All with bloody scourges rent.
For the sins of His own nation
Saw Him hang in desolation
Till His spirit forth He sent.
O, thou Mother, fount of love,
Touch my spirit from above.
Make my heart with Thine accord:
Make me feel as Thou hast felt;
Make my soul to glow and melt
With the love of Christ my Lord.
Holy Mother, pierce me through!
In my heart each wound renew
Of my Savior crucified!
Let me share with thee His pain,
Who for all our sins was slain.
Who for me in torments died.
Let me mingle tears with thee,
Mourning Him who mourned for me,
All the days that I may live.
By the cross with Thee to stay,
There with Thee to weep and pray,
Is all I ask of Thee to give.
Virgin of all Virgins bless!
Listen to my fond request:
Let me share Thy grief divine.
Let to my latest breath.
In my body bear the death
Of that dying Son of thine.
Wounded with His every wound,
Steep my soul till it hath swooned
In His very Blood away.
Be to me, O Virgin, nigh,
Lest in flames I burn and die,
In His awful Judgment Day.
Christ, when Thou shalt call me hence,
Be Thy Mother my defense,
Be Thy cross my victory.
While my body here decays,
May my soul Thy goodness praise,
Safe in paradise with Thee.
Amen.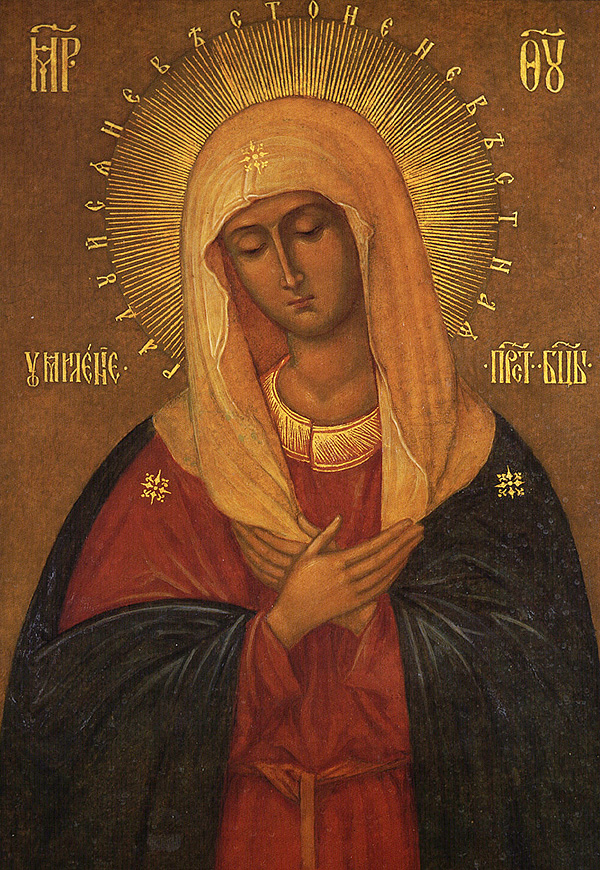 Ancient Prayer to the Virgin
We turn to you for protection, holy Mother of God. Listen to our prayers and help us in our needs. Save us from every danger, glorious and blessed Virgin. Amen.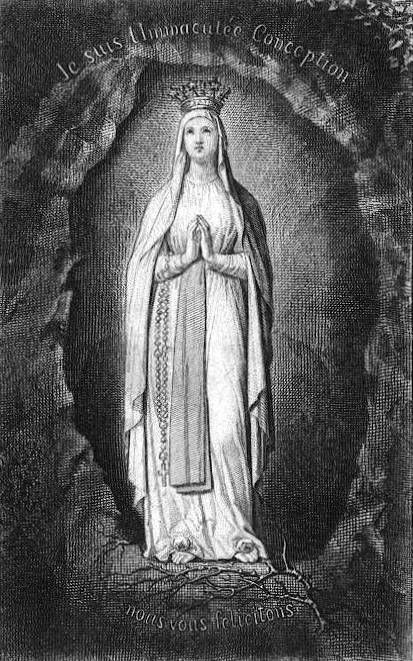 Prayer To Our Blessed Lady of Lourdes
Blessed Virgin Mary of Lourdes, I call upon you this day to be my special friend here on earth, today and all the days of my life. I ask you to be my special protectress and I place all my thoughts, words and deeds in your hands. I ask you to be my guide and guardian so I may please Jesus in all things. Amen.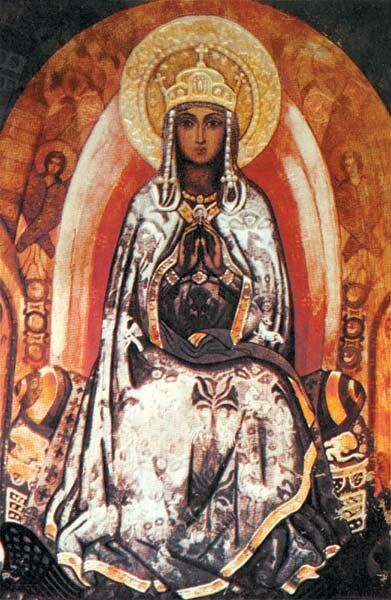 Prayer to the Blessed Virgin Mary (St. John Bosco)
O Mary, powerful Virgin, thou art the mighty and glorious protector of holy Church; thou art the marvelous help of Christians; thou art terrible as an army in battle array; thou alone hast destroyed every heresy in the whole world. In the midst of our anguish, our struggles and our distress defend us from the power of the enemy and at the hour of our death receive our souls in paradise. Amen.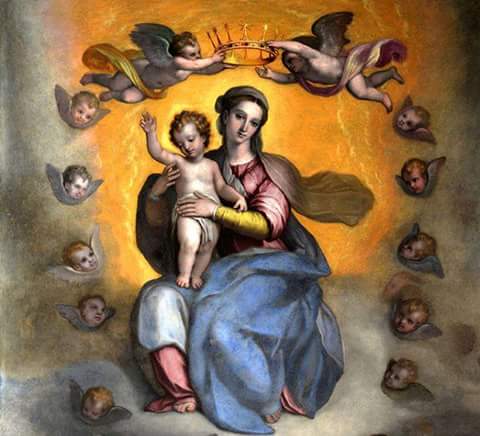 O Domina Mea
O Holy Mary, my sovereign Lady, into thy blessed trust and special custody, and in the bosom of thy mercy, I this day and every day, and in the hour of my death, commend my soul and my body. To thee I commit all my hope and happiness, all my anxieties and miseries, my life and the end of my life, that through thy most holy intercession and through thy merits, all my actions may be guided and governed according to thine and thy Son's will. Amen.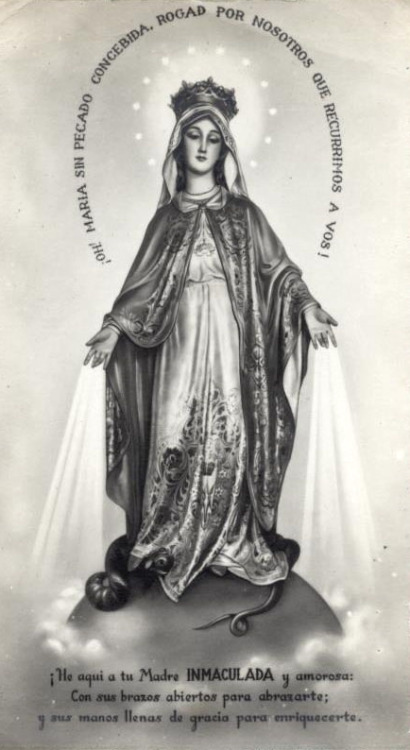 Prayer Against Temptations of Impurity
By thine Immaculate Conception and thy perpetual virginity, cleanse my heart and my flesh, O most pure Virgin Mary! Amen.
Blessed be the most Pure and Immaculate Conception of the Blessed Virgin Mary!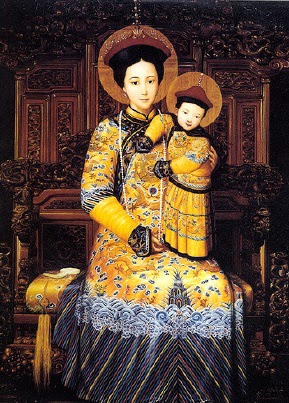 Our Lady of Mercy (St. Augustine of Hippo.)
Blessed Virgin Mary, who can worthily repay you with praise and thanks for having rescued a fallen world by your generous consent! Receive our gratitude, and by your prayers obtain the pardon of our sins. Take our prayers into the sanctuary of heaven and enable them to make our peace with God. Holy Mary, help the miserable, strengthen the discouraged, comfort the sorrowful, pray for your people, plead for the clergy, intercede for all women consecrated to God. May all who venerate you feel now your help and protection. Be ready to help us when we pray, and bring back to us the answers to our prayers. Make it your continual concern to pray for the people of God, for you were blessed by God and were made worthy to bear the Redeemer of the world, who lives and reigns forever. Amen.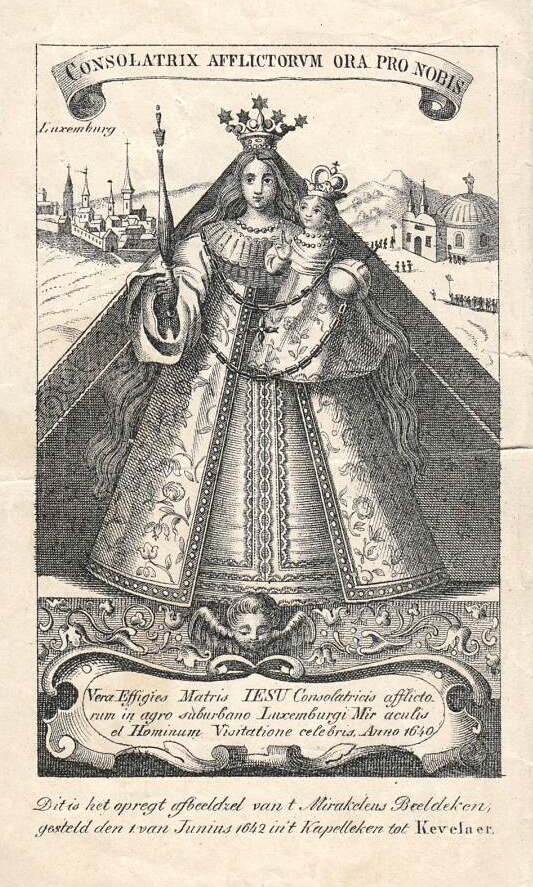 Salutation to Mary (St. John Eudes)
Hail Mary! Daughter of God the Father.
Hail Mary! Mother of God the Son.
Hail Mary! Spouse of God the Holy Ghost.
Hail Mary! Temple of the Most Blessed Trinity.
Hail Mary! Pure Lily of the effulgent Trinity.
Hail Mary! Celestial Rose of the ineffable Love of God.
Hail Mary! Virgin pure and humble, of whom the King of Heaven willed to be born and with thy milk to nourished.
Hail Mary! Virgins of virgins.
Hail Mary! Queen of Martyrs, whose soul a sword transfixed.
Hail Mary! Lady most blessed, unto whom all power in Heaven and earth is given.
Hail Mary! My Queen and my Mother, my life, my Sweetness and my Hope.
Hail Mary! Mother most Amiable.
Hail Mary! Mother of Divine Love.
Hail Mary! Immaculate, conceived without sin.
Hail Mary! Full of grace. The Lord is with thee! Blessed art thou among woman and blessed is the Fruit of thy womb, Jesus.
Blessed be thy spouse, St. Joseph.
Blessed be thy Father, St. Joachim.
Blessed be thy Mother, St. Anne.
Blessed be thy Guardian, St. John.
Blessed be thy Holy Angel, St. Gabriel.
Glory be to God the Father, Who chose thee.
Glory be to God the Son, Who loved thee.
Glory be to God the Holy Ghost, Who espoused thee.
O glorious Virgin Mary, may all men love and praise thee.
Holy Mary, Mother of God, pray for us and bless us, now and at death, in the name of Jesus, thy Divine Son. Amen.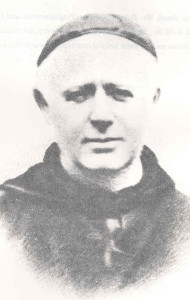 "This Salutation is beautiful! Recite it daily. From her throne in Heaven the Blessed Virgin Mary will bless you and you must make the sign of the Cross. Yes! If only you could see Our Lady bless you, I know it! Offered for the conversion of a sinner, it would be impossible not to be granted" Fr. Paul of Moll, OSB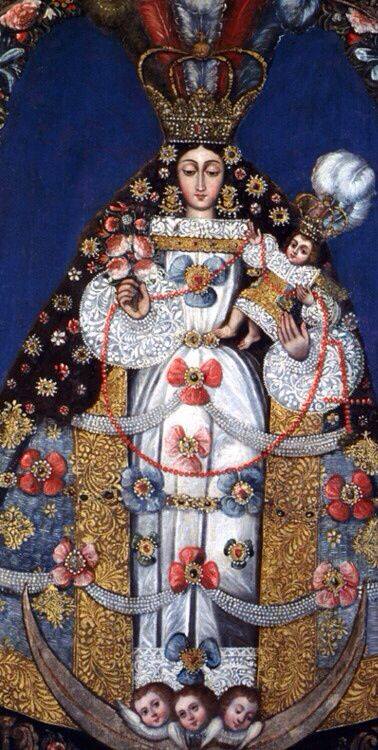 Prayer to the Queen of the Most Holy Rosary
Queen of the most holy Rosary, in these times of such brazen impiety, manifest thy power with the signs of thine ancient victories, and from thy throne, whence thou dost dispense pardon and graces, mercifully regard the Church of thy Son, His Vicar on earth, and every order of clergy and laity, who are sorely oppressed in the mighty conflict.
Do thou, who art the powerful vanquisher of all heresies, hasten the hour of mercy, even though the hour of God's justice is every day provoked by the countless sins of men. For me, who am the least of men, kneeling before thee in supplication, do thou obtain the grace I need to live righteously upon earth and to reign among the just in heaven, the while in company with all faithful Christians throughout the world, I salute thee and acclaim thee as Queen of the most holy Rosary.
Queen of the most holy Rosary, pray for us.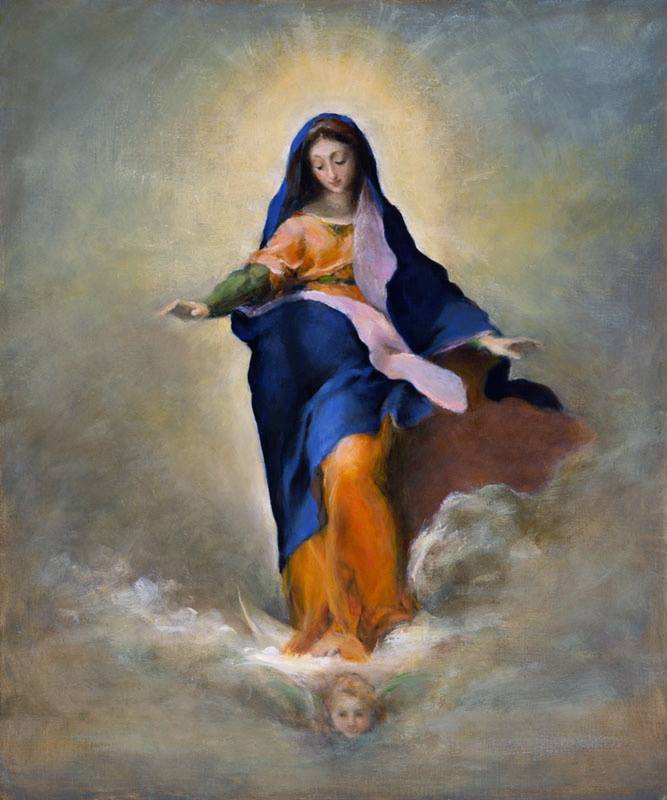 Bend Tenderly Over Our Wounds (Pope Pius XII)
Enraptured by the splendor of your heavenly beauty, and impelled by the anxieties of the world, we cast ourselves into your arms, O Immaculate Mother of Jesus and our Mother, Mary, confident of finding in your most loving heart appeasement of our ardent desires, and a safe harbour from the tempests which beset us on every side.
Though degraded by our faults and overwhelmed by infinite misery, we admire and praise the peerless richness of the sublime gifts with which God has filled you, above every other mere creature, from the first moment of your conception until the day on which, after your assumption into heaven, he crowned you Queen of the Universe.
O crystal Fountain of Faith, bathe our minds with the eternal truths!
O fragrant Lily of All Holiness, captivate our hearts with your heavenly perfume!
O Conqueress of Evil and Death, inspire in us a deep horror of sin, which makes the soul detestable to God and a slave of hell!
O well-beloved of God, hear the ardent cry which rises up from every heart.
Bend tenderly over our aching wounds. Convert the wicked, dry the tears of the afflicted and oppressed, comfort the poor and humble, quench hatreds, sweeten hardness, safeguard the flower of purity in youth, protect the holy church, make all men feel the attractions of Christian goodness. In your name, resounding harmoniously in heaven, may they recognize that they are brothers, and that the nations are members of one family, upon which may there shine forth the sun of a universal and sincere peace.
Receive, O most sweet Mother, our humble supplications, and above all obtain for us that, one day, happy with you, we may repeat before your throne that hymn which today is sung on earth around your altars:
You are all-beautiful, O Mary!
You are the glory, your are the joy, your are the honor of our people! Amen.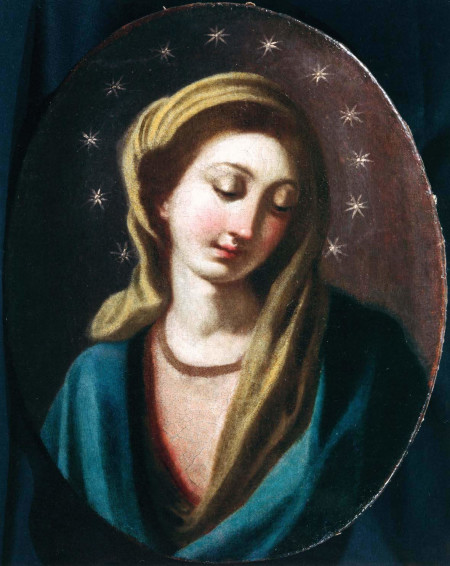 Prayer to Mary (for the Month of May) (St. Alphonsus Liguori)
Most holy and Immaculate Virgin and my Mother Mary, to thee, who art the Mother of my Lord, the Queen of the world, the Advocate, the Hope and the Refuge of sinners, I have recourse today. I render thee my most humble homage, O great Queen, and I thank thee for all the graces thou hast obtained for me until now. I love thee, O most Amiable Lady; and for the love which I bear thee, I promise to serve thee always and to do all in my power to make other also love thee. I place in thee all my hopes and I confide my salvation to thy care. Accept me for thy servant, O Mother of Mercy.
And since thou art so powerful with God, deliver me from all temptations, or, rather, obtain for me the strength to triumph over them until death. Of thee I ask a perfect love for Jesus Christ, through thee I hope to die a good death. O my Mother, by the love which thou bearest to God, I beseech there to help me at all times, but especially at the last moment of my life. Leave me not, I beseech thee, until thou seest me safe in Heaven, blessing thee and singing thy mercies for all eternity. Amen, so I hope, so may it be.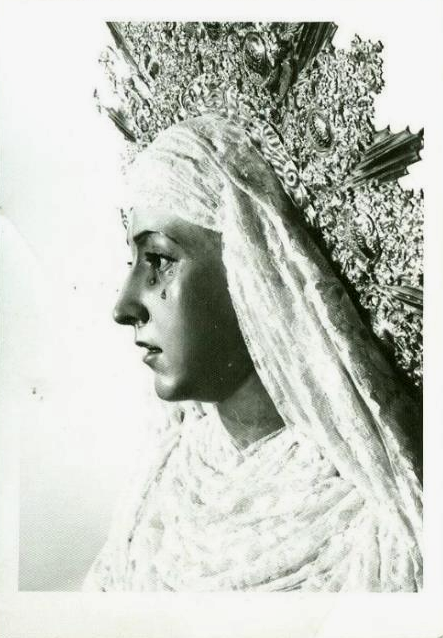 Prayer to Our Mother of Good Success
Soul of Mary, sanctify me,
Body of Mary, purify me,
Heart of Mary, inflame me,
Sorrow of Mary, comfort me,
Tears of Mary, console me,
O Sweet Mary, hear me.
With thy benign eyes, look on me,
Through thy holy steps, guide me,
To thy Divine Son, pray for me,
Pardon for my sins, achieve for me,
Devotion to your holy Rosary, infuse in me,
Love for God and my fellow man, grant me,
Permit me not to ever be separated from thee.
In the hour of my death, comfort me,
From my enemies, defend me,
With the shield of thy holy name, protect me,
With thy mantle, cover me,
In the fatal instant of my agony, assist me,
From dying in sin, free me,
Into the arms of Jesus, deliver me,
To the eternal mansion, bring me,
So that, with the angels and saints
I can praise thee forever and ever. Amen.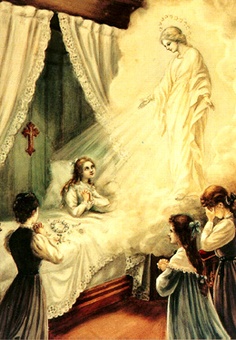 Prayer to Our Lady of the Smile
Gentle Mary, My Mother, I place before you the worries, hurts and hopes of my heart.
They shrink my soul and I feel heavy and hopeless.
Darkness closes in around me.
I reach out to you, bright Lady of Hope.
Smile on me.
Smile on my loved ones and the intentions I place before you.
(Mention your intentions here…)
Your tender smile works miracles and heals, as you did with St. Thérèse, the Little Flower.
You are my true Mother.
You show the tender mercy of God.
Smile on me, Blessed Mother and all will be well. Amen.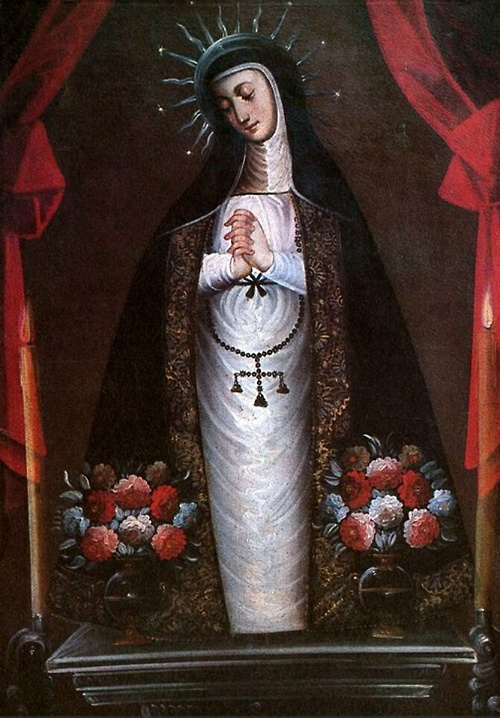 Prayer To Our Lady for All in Trouble 
Most Blessed Virgin, in your life of glory, remember the sorrows of earth.
Look with kindness on those who suffer, who struggle against difficulties, who drink unceasingly the bitterness of this life.
Have pity on those who love each other and are separated.
Have pity on the lonely of heart.
Have pity on the weakness of our faith.
Have pity on the objects of our affection.
Have pity on those who weep, for those who pray, those who fear…
Obtain for all hope and peace. Amen.
Prayers to the Mother of the Word Incarnate
Virgin most holy, Mother of the Word Incarnate, Treasurer of graces, and Refuge of us poor sinners; we fly to thy motherly affection with lively faith, and we beg of thee the grace ever to do the will of God. Into thy most holy hands we commit the keeping of our hearts, asking thee for health of soul and body, in the certain hope that thou, our most loving Mother, wilt hear our prayer. Wherefore with lively faith we say: Hail Mary (Pray Three Hail Mary's).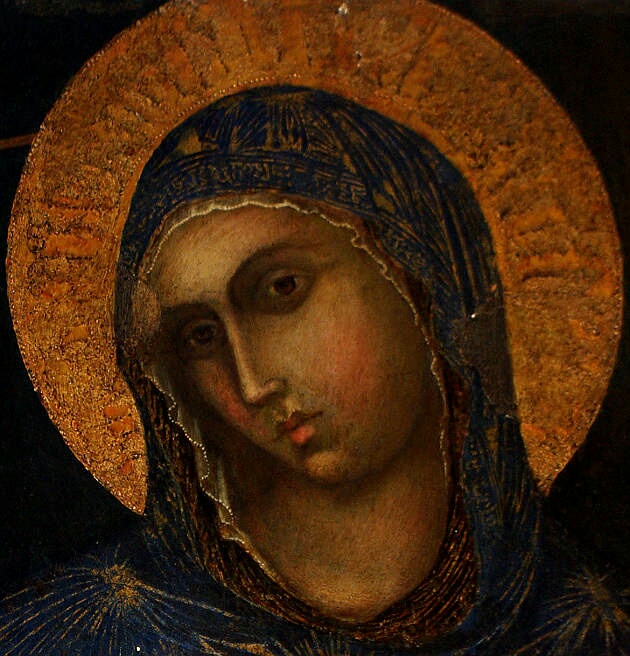 Prayer To The Blessed Virgin Mary (Composed by St. Augustine)
O Blessed Virgin Mary, who can worthily repay thee thy just dues of praise and thanksgiving, thou who by the wondrous assent of thy will didst rescue a fallen world? What songs of praise can our weak human nature recite in thy honor, since it is by thy intervention alone that it has found the way to restoration? Accept, then, such poor thanks as we have here to offer, though they be unequal to thy merits; and, receiving our vows, obtain by thy prayers the remission of our offenses. Carry thou our prayers within the sanctuary of the heavenly audience, and bring forth from it the antidote of our reconciliation. May the sins we bring before Almighty God through thee, become pardonable through thee; may what we ask for with sure confidence, through thee be granted.
Take our offering, grant us our requests, obtain pardon for what we fear, for thou art the sole hope of sinners. Through thee we hope for the remission of our sins, and in thee, O blessed Lady, is our hope of reward. Holy Mary, succor the miserable, help the faint-hearted, comfort the sorrowful, pray for thy people, plead for the clergy, intercede for all women consecrated to God; may all who keep thy holy commemoration feel now thy help and protection. Be thou ever ready to assist us when we pray, and bring back to us the answers to our prayers. Make it thy continual care to pray for the people of God, thou who, blessed by God, didst merit to bear the Redeemer of the world, who liveth and reigneth, world without end. Amen.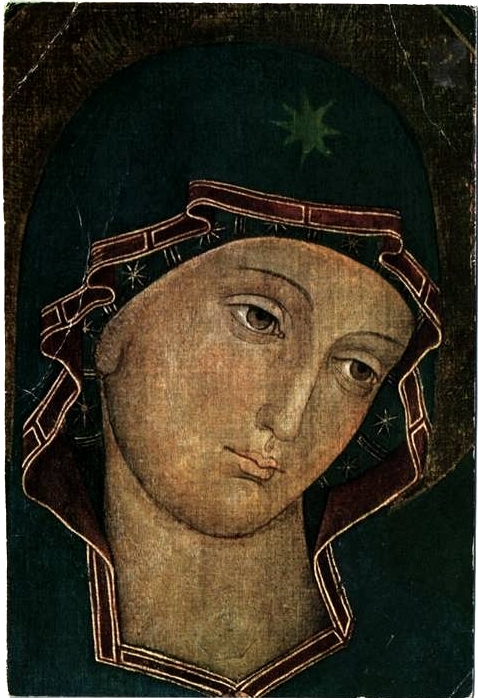 Prayer To The Most Holy Virgin (Composed by Pope Leo XII)
Most Holy Virgin, I venerate thee with my whole heart above all angels and saints in Paradise, as the Daughter of the Eternal Father, and I consecrate to thee my soul with all its powers. (Hail Mary)
Most holy Virgin, I venerate thee with my whole heart above all angels and saints in Paradise, as the Mother of the Only-begotten Son, and I consecrate to thee my body with all its senses. (Hail Mary)
Most Holy Virgin, I venerate thee with my whole heart above all angels and saints in Paradise, as the Spouse of the Holy Ghost, and I consecrate to thee my heart and all its affections, praying thee to obtain for me from the ever-blessed Trinity all that is necessary for my salvation. (Hail Mary)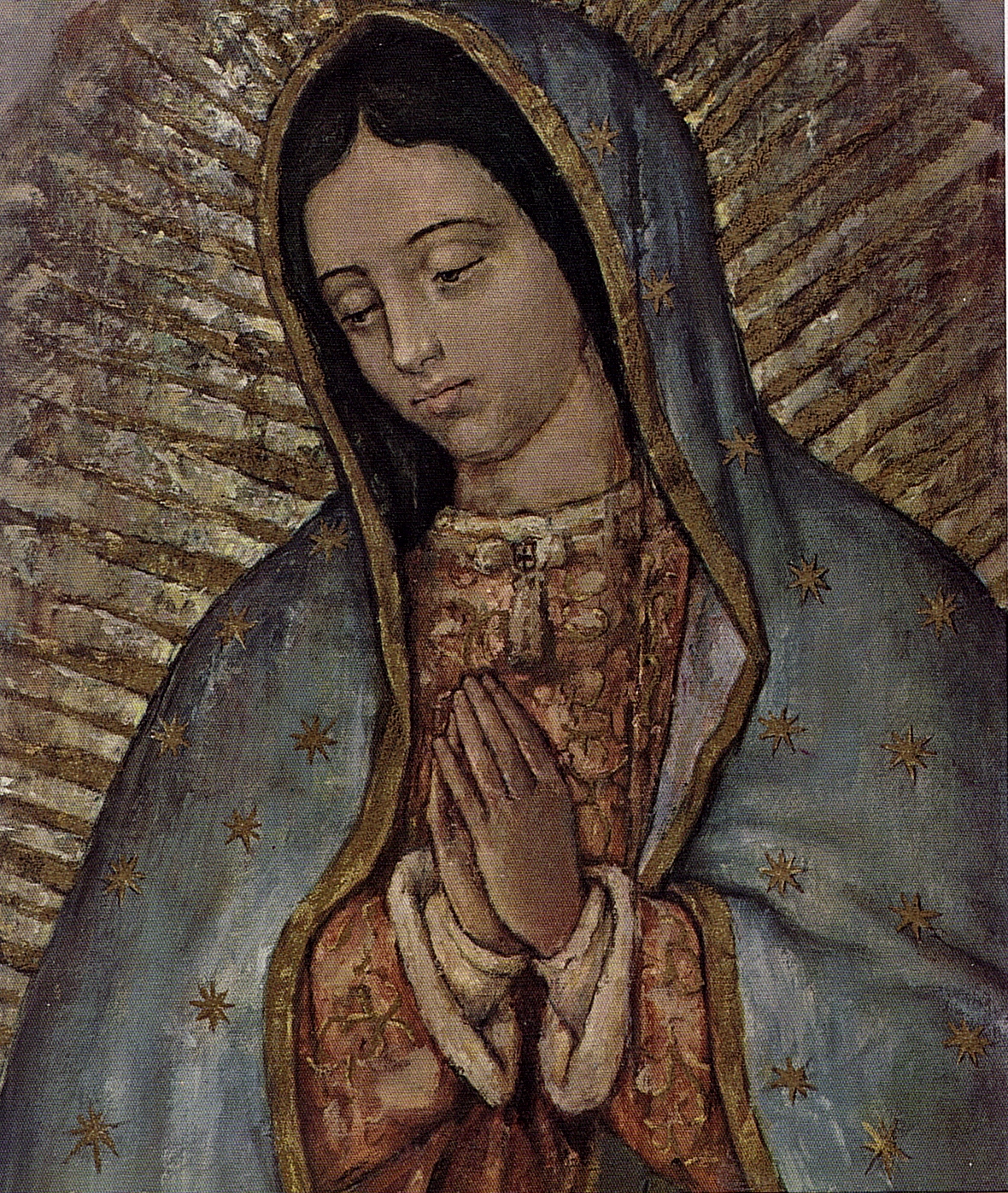 To Our Lady of Peace (Composed by Pope Pius IX)
Hail, thou that art most Venerable, Queen of Peace, most holy Mother of God; through the Sacred Heart of Jesus thy Son, the Prince of Peace, cause His anger to cease from us, that so He may reign over us in peace. Remember, O most gracious Virgin Mary, that never was it known that any one who sought thy prayers was forsaken by God. Inspired with this confidence, I come unto thee. Despise not my petitions, O Mother of the Incarnate Word; but in thy loving kindness hear and answer me, O merciful, O kind, O sweet Virgin Mary.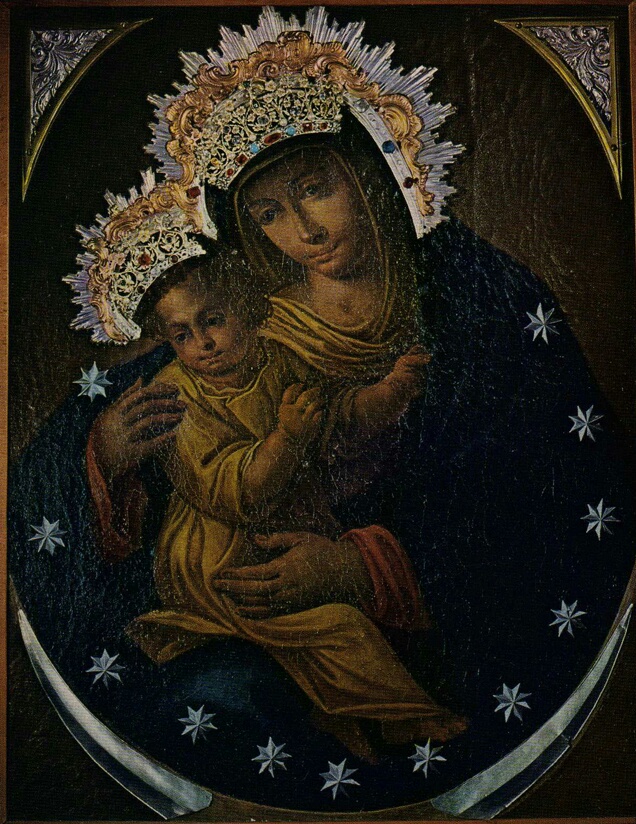 Prayer in Honor of the Queenship
O Mary Immaculate Queen, look down upon this distressed and suffering world. Thous knowest our misery and our weakness. O thou who art our Mother, saving us in the hour of peril, have compassion on us in these days of great and heavy trail.
Jesus had confided to thee the treasure of His Grace, and through thee He wills to grant us pardon and mercy. In these hours of anguish, therefore, thy children come to thee as their hope.
We recognize thy Queenship and ardently desire thy triumph. We need a Mother and a Mother's Heart. Thou art for us the luminous dawn which dissipates our darkness and points out the way to life. In thy clemency obtain for us the courage and the confidence of which we have such need.
Most Holy and Adorable Trinity, Thou Who didst crown with glory in Heaven the Blessed Virgin Mary, Mother of the Savior, grant that all her children on earth may acknowledge her as their Sovereign Queen, that all hearts, homes, and nations may recognize her rights as Mother and as Queen. Amen.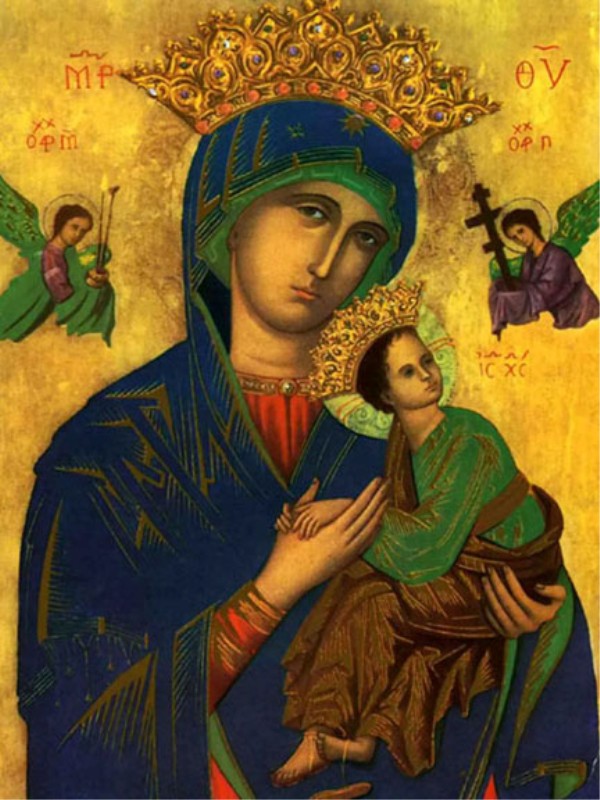 Prayer to Our Mother of Perpetual Help in Temporal Wants
O Mother of Perpetual Help, numerous clients continually surround thy holy Picture, all imploring they mercy. All bless thee as the assured help of the miserable, all feel the benefit of thy maternal protection. With confidence, then, do I present myself before thee in my misery. See, dear Mother, the many evils to which we are exposed; see how numerous are our wants. Trails and sorrows often depress us; reverses of fortune and privations, often grievous, bring misery into our homes; everywhere we meet the cross.
Have pity, compassionate Mother, on us and on our families, especially in this my necessary (here mention it). Help me, O my Mother, in my distress; deliver me from all my ills; or if it be the will of God that I should suffer still longer, grant that I may endure all with love and patience. This grace I expect of thee with confidence, because thou art our Perpetual Help. Amen.
(Three Hail Mary's)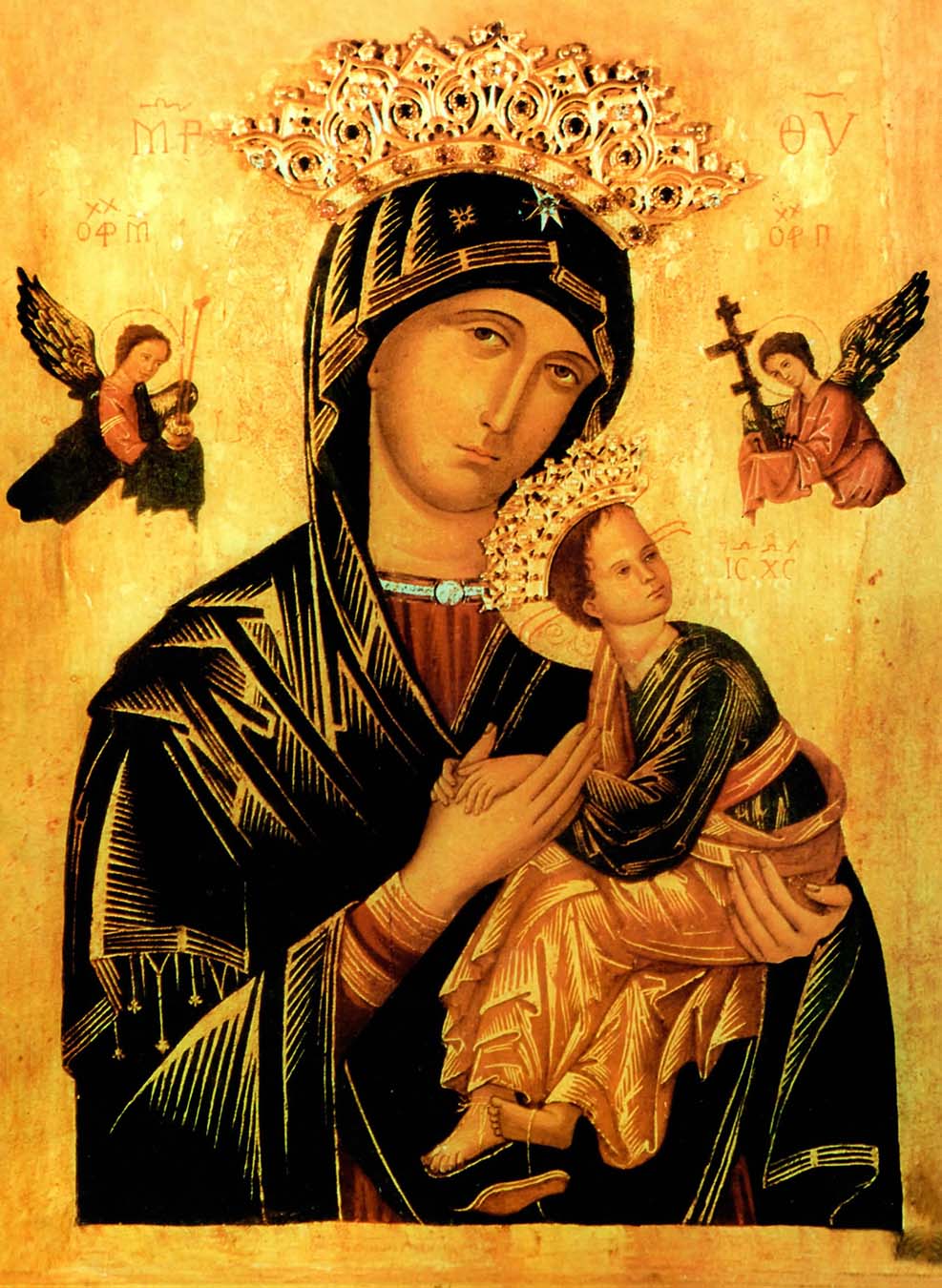 Prayer to Our Mother of Perpetual Help in Spiritual Wants
O Mother of Perpetual Help, with the greatest confidence I come before thy sacred Picture in order to invoke thine aid. Thou hast seen the wounds which Jesus has been pleased to receive for our sake; thou hast seen the Blood of thy Son flowing for our salvation; thou knowest how thy Son desires to apply to us the fruit of His Redemption. Behold I cast myself at thy feet, and pray thee to obtain for my soul the grace of which I stand in so much need. O Mary, most loving of all mothers, obtain for me from the Heart of Jesus, the source of every good, this grace (here mention it).

O Mother of Perpetual Help, thou desirest our salvation far more than we ourselves; thy Son has given thee to us for our Mother; thou hast thyself chosen to be called Mother of Perpetual Help. I trust not in my merits, but in thy powerful intercession; I trust in thy goodness, I trust in thy motherly love. Obtain for me the grace I ask from thee. Amen.
(Three Hail Mary's)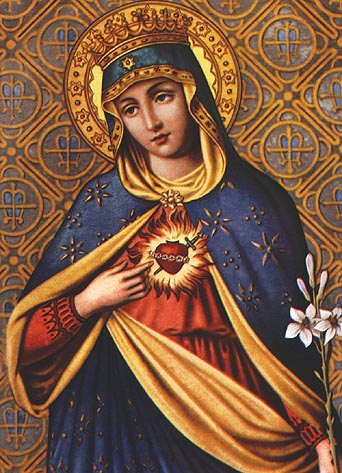 Prayer Before A Picture of Our Sorrowful Mother
O most loving Mother of my Lord Jesus Christ, thou who dost never reject nor despise anyone who turns to thee with a contrite heart nor refuse to console the afflicted, behold, poor and sinful, I draw near to thy holy image with deep devotion, and beseech thee to obtain for me the grace to honor and love thee with all my strength.
O merciful Heart of Mary, let me obtain mercy from thee as so many sinners already have obtained it; for what is thy Heart, O Mary, but a Heart of mercy? How is it possible, then, that grace could be refused to anyone who implores it from this seat of mercy?
Most tender and compassionate Mother, thou knowest how much an afflicted heart is in want of compassion, because the intensity of thy sufferings was so great that all mankind together would have been incapable of supporting it.
Oh, what unutterable bitterness filled thy soul when thou didst contemplate the disfigured form of thy beloved Son, when thou didst receive His mangled and lifeless Body into thy virginal arms, and pressing It tenderly to thy maternal heart, didst embrace It countless times, didst bedew It with a stream of burning tears, and finally didst rest thy agonizing heart on the wounded brow of thy Jesus!
I recall to thy mind this thy inexpressible anguish, and beseech thee to obtain for me the pardon of my sins. O Mary, intercede for me with Jesus, whom thou didst bear in thy arms! O Jesus! O Mary! by your unutterable suffering, have pity on me, a miserable sinner. O dearest Jesus, show to Thy Heavenly Father all the wounds and anguish which Thou didst bear for me! O sweetest Virgin, show Him all the tears which thou didst shed for me! O Son! O Mother! show Him all the agony, all the anguish of heart which you endured for me.
O Mary , I beseech thee, through this most painful mystery of thy dolors, obtain mercy for me from God the Father, and taking the mangled and dead Body of thy beloved Son into thy maternal arms, offer Him to the Eternal Father in the same manner as thou didst once offer Him His pierced Side and thy own broken Heart, His bitter sufferings and thy painful compassion, His and thy burning tears, His and thy sighs, in a word, everything which Jesus and thou suffered upon earth, that, through these same sufferings, thou mayest obtain mercy and pardon for me. Amen.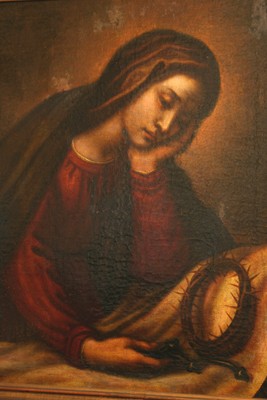 Prayer to Mary (St. Louis de Montfort)
Hail Mary, beloved Daughter of the Eternal Father! Hail Mary, admirable Mother of the Son! Hail Mary, faithful spouse of the Holy Ghost! Hail Mary, my dear Mother, my loving Mistress, my powerful sovereign! Hail my joy, my glory, my heart and my soul! Thou art all mine by mercy, and I am all thine by justice. But I am not yet sufficiently thine. I now give myself wholly to thee without keeping anything back for myself or others. If thou still seest in me anything which does not belong to thee, I beseech thee to take it and to make thyself the absolute Mistress of all that is mine. Destroy in me all that may be displeasing to God, root it up and bring it to nought; place and cultivate in me everything that is pleasing to thee.
May the light of thy faith dispel the darkness of my mind; may thy profound humility take the place of my pride; may thy sublime contemplation check the distractions of my wandering imagination; may thy continuous sight of God fill my memory with His presence; may the burning love of thy heart inflame the lukewarmness of mine; may thy virtues take the place of my sins; may thy merits be my only adornment in the sight of God and make up for all that is wanting in me.
Finally, dearly beloved Mother, grant, if it be possible, that I may have no other spirit but thine to know Jesus and His divine will; that I may have no other soul but thine to praise and glorify the Lord; that I may have no other heart but thine to love God with a love as pure and ardent as think I do not ask thee for visions, revelations, sensible devotion or spiritual pleasures. It is thy privilege to see God clearly; it is thy privilege to enjoy heavenly bliss; it is thy privilege to triumph gloriously in Heaven at the right hand of thy Son and to hold absolute sway over angels, men and demons; it is thy privilege to dispose of all the gifts of God, just as thou willest.
Such is, O heavenly Mary, the "best part," which the Lord has given thee and which shall never be taken away from thee–and this thought fills my heart with joy. As for my part here below, I wish for no other than that which was thine: to believe sincerely without spiritual pleasures; to suffer joyfully without human consolation; to die continually to myself without respite; and to work zealously and unselfishly for thee until death as the humblest of thy servants. The only grace I beg thee to obtain for me is that every day and every moment of my life I may say: Amen, So be it–to all that thou didst do while on earth; Amen, so be it–to all that thou art now doing in Heaven; Amen, so be it–to all that thou art doing in my soul, so that thou alone mayest fully glorify Jesus in me for time and eternity. Amen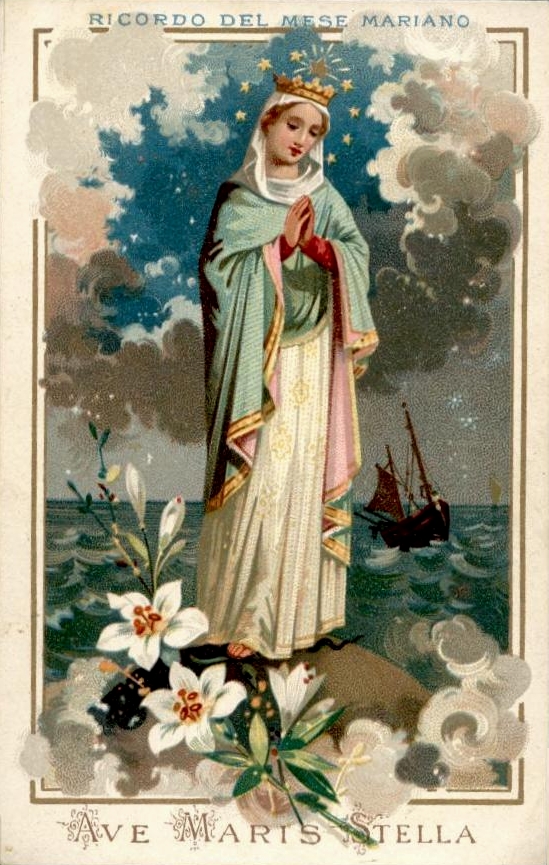 To The Most Holy Virgin of Good Success
Our Lady and Mother, see how evil is invading everything: hearts, families, society, our Country.
Children no longer walk on the path of innocence. The youth, caught up in worldly pastimes, no longer come before thy altar to ask thy maternal blessings; nor do they seek the light of thy gaze to dissipate the shadows of doubt the world instills unceasingly.
Mothers are forgetting that the home is the first school where good is taught and that they are the first teachers. Family life today has deteriorated and the sound of the call to prayer is rarely heard.
In the schools there is no prayer, nor are thy grandeurs sung. In the home, few still believe in Holy Providence which has counted all the hairs on our heads and the sufferings of our hearts, and few have recourse to the merciful assistance of thy maternal heart.
In these hours our Country is the poor traveler of the Gospel who fell into the hands of thieves, riddled with wounds that are almost mortal, without the relief of any human hope.
My sweet Mother, take care of these abandoned children who are lost because they have nothing in life. Protect the youth so that these tender plants are not swallowed up in the poisonous muck of vice. Teach mothers the divine gift of being mothers and their duty to model the hearts of their children at the cost of any sacrifice, of saving them with the mysterious supplications of their tears.
If you do not come to the assistance of this agonizing Country, the remnants of Christendom will disappear. Your heart is an abyss of ineffable tenderness. Let a drop of balm fall upon its wounds and it will live. Amen.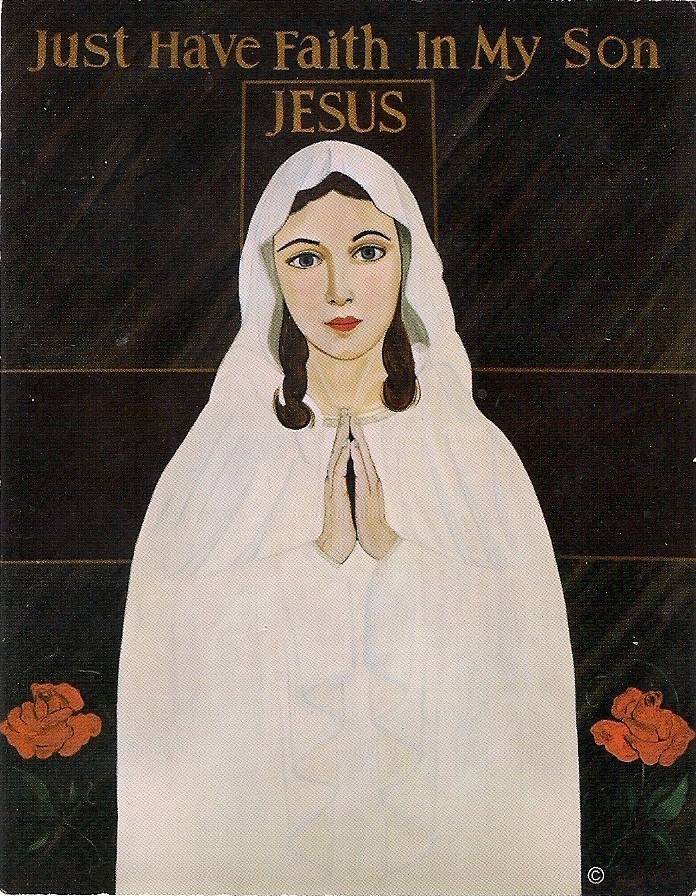 Prayer of Refuge (St. Alphonsus Liguori.)
Behold, O Mother of my God, my only hope, Mary, behold at thy feet a miserable sinner, who asks thee for mercy. Thou art proclaimed and called by the whole Church, and by all the faithful, the refuge of sinners. Thou art consequently my refuge; thou hast to save me. I will say with William of Paris: Thou knowest, most sweet Mother of God, how much thy blessed Son desires our salvation. Thou knowest all that Jesus Christ endured for this end.
I present thee, O my Mother, the sufferings of Jesus: the cold that He endured in the stable, His journey into Egypt, His toils, His sweat, the Blood that He shed; the anguish which caused His death on the Cross, and of which thou wast thyself a witness. Oh, show that thou lovest thy beloved Son, and by this love I implore thee to assist me. Extend thy hand to a poor creature who has fallen and asks thy help. Were I a Saint I would not need seek thy mercy; but because I am a sinner I fly to thee, who art the Mother of mercies. I know that thy compassionate heart finds it a consolation in assisting the miserable, when thou canst do so, and dost not find them obstinate.
Console, then, thy compassionate heart, and console me this day; for now thou hast the opportunity of saving a poor creature condemned to Hell; and thou canst do so, for I will not be obstinate. I abandon myself into thy hands, only tell me what thou wouldst have me do, and obtain for me strength to execute it, for I am resolved to do all that depends on me to recover the Divine grace. I take refuge under thy mantle. Jesus wills that I should have recourse to thee, in order not only that His Blood may save me, but also that thy prayers may assist me in this great work; for thy glory. and for His Own, since thou art His Mother. He sends me to thee, that thou mayest help me.
O Mary, see, I have recourse to thee; in thee do I confide. Thou prayest for so many others, pray also for me; say only a word. Tell Our Lord that thou willest my salvation, and God will certainly save me. Say that I am thine, and then I have obtained all that I ask, all that I desire. Amen.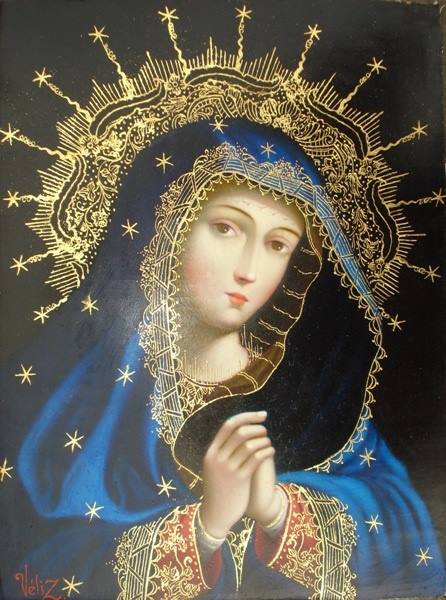 Act of Reparation to the Immaculate Heart of Mary
Most Holy Virgin and our beloved Mother, we listen with grief to the complaints of the Immaculate Heart, surrounded with the thorns which ungrateful men place therein at every moment by their blasphemies and ingratitude. Moved by the ardent desire of loving thee as our Mother and of promoting a true devotion to thy Immaculate Heart, we prostrate ourselves at thy feet to prove the sorrow we feel for the grief that men cause thee and to atone by means of our prayers and sacrifices for the offenses with which men return thy tender love. Obtain for them and for us the pardon of so many sins. A word from thee will obtain grace and forgiveness for all. Hasten, O Lady, the conversion of sinners that they may love Jesus and cease to offend God, already so much offended, and thus avoid eternal punishment. Turn thine eyes of mercy towards us so that henceforth we may love God with all our heart while on earth and enjoy Him forever in Heaven. Amen.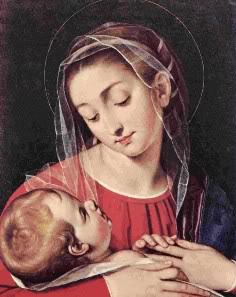 Prayer to Mary, Mother of Divine Providence
Virgin Mary, Immaculate Mother of Divine Providence, protect our life and sanctify us with the gift of grace. Obtain for us from the Father of mercy and the God of consolation pardon for our sins, reconciliation with our brothers and sisters, and comfort in the midst of afflictions.
Renew our hearts that they may become worthy dwelling places of your Divine Son, Jesus. Help us in our struggles against mediocrity, self-seeking, and pride so we can generously serve our neighbor. We entrust ourselves to you, O Mary, in our pilgrimage in this world.
We invoke you as our guide and our defense against dangers. In the present tribulations, give us secure refuge. O sweet Mother of Divine Providence, turn your eyes toward us, you who are our hope on earth. Grant that we may have you as our Mother in the glory of heaven. Amen.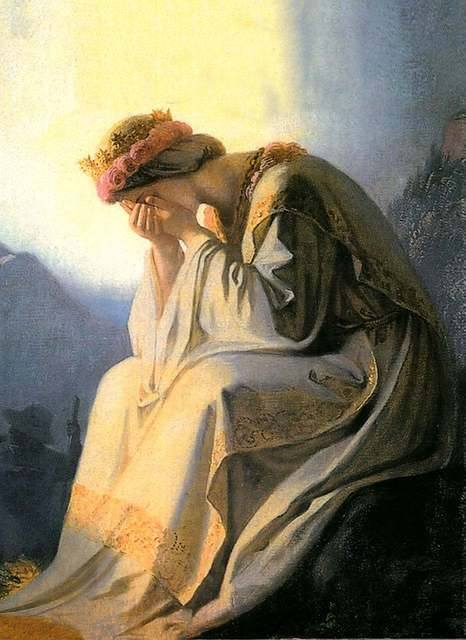 Prayer to Our Lady of La Salette
Remember, dear Lady, of La Salette, true Mother of Sorrows, the tears which thou didst shed for me on Calvary; be mindful also of the unceasing care which thou doest exercise to shield me from the justice of God; and consider whether thou canst now abandon thy child; for whom thou hast done so much. Inspired by this consoling thought, I come to cast myself at thy feat, in spite of my infidelity and ingratitude. Reject not my prayer, O Virgin of reconciliation, convert me, obtain for me the grace to love Jesus Christ above all things and to console thee too by living a holy life, in order that one day I may be able to see thee in Heaven. Amen